UPDATED March 31, 2022  –  see link to part 2 below
Click on the link below to read and watch the March 30, 2022 broadcast with all six candidates for Francis Howell School board.
Don't forget to vote next Tuesday, April 5th for:  Adam Bertrand and Randy Cook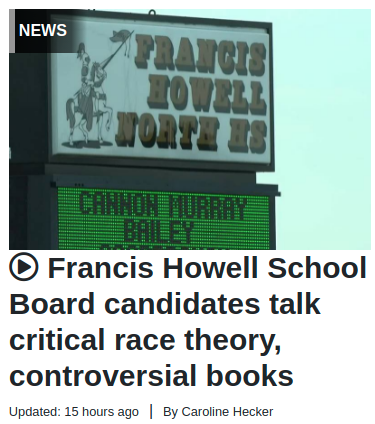 (March 31 Update) Part 2:
Francis Howell school board candidates discuss handling of Proposition S funding, new Francis Howell North High School
( We highly recommend you watch this short video: Prop S Explained )
---
The truth about Critical Race Theory in Francis Howell:
The district, Mr. Hoehn, and other candidates often like to say:  "Critical Race Theory is not taught in Francis Howell".
This worn out straw man obscures the truth:  While Critical Race Theory  (the graduate/law school theoretical framework) is not taught, that has never been our contention.
Francis Howell Families has always said that the Black History / Black Literature classes were developed and teach students history through a lens of CRT, using CRT doctrines.
Last year, Francis Howell hired a self-proclaimed CRT expert and consultant, LaGarrett King, to instruct our staff on writing new curriculum.   Watch behind the scenes and decide for yourself if CRT is being applied in these courses:
FHSD Public vs Private Presentations on Black History Curriculum
Last fall, Randy Cook wrote a letter to the Superintendent and Board members that detailed how CRT was being used in the new Black History classes.   The district and school board members, including Mr Hoehn, have never responded to his letter:
Critical Race Theory in Francis Howell – the Evidence
Inappropriate, obscene, and pornographic materials in our libraries
Warning:  These articles contain material that you probably won't want your children to read.
Think about this:   Our school board will cut you off during public comments if you try to read some passages from books available in our middle and high school libraries.
To all those who believe that books containing graphic descriptions of oral sex, rape, incest, and pedophilia are OK in our school libraries, and all who believe that our schools should provide classroom instruction on sexual orientation and gender identity to Kindergarten through 3rd graders:
No way, Groomer
---