GRAPHIC CONTENT WARNING – INTENDED ONLY FOR ADULT READERS
Ironically, as American Library Association and school libraries across the nation celebrate "Banned Books Week",  parental interest in protecting their children from sexualized content is peaking.
One of the books that is trending on social media in the state of Missouri this week is All Boys Aren't Blue by George M. Johnson.  This book can be found in the libraries of Francis Howell North High School and Francis Howell Central High School.  Here is a quote from page 266 of the book…
"He reached his hand down and pulled out my dick. He quickly went to giving me head. I just sat back and enjoyed it as I could tell he was, too. He was also definitely experienced in what he was doing, because he went to work quite confidently. He then came up and asked me if I wanted to try on him. I said sure. I began, and he said, "Watch your teeth." I didn't want to let him know I was inexperienced. So, I slowed down and took my time and luckily got into a good rhythm. He didn't know I was a virgin, and I did my best to act dominant like my favorite porn star. I was an actor, and this was my movie."
This graphic sex scene progresses through page 267, which we will not include here.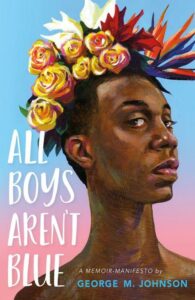 Sadly, this is far from the only erotic content that has been brought to the Francis Howell School Board and administration's attention.  In the June 3rd school board meeting Chris Brooks (a supporter of Francis Howell Families) quoted from a book called Heavy by Kiese Laymon.  Heavy is one of the books selected for the new Black Literature course at Francis Howell.  The course is presented as honoring black authors and their work, but we find no honor in this literary selection.  Here is an excerpt from the book:
"Renata pulled up her shirt, unhooked her bra and filled my mouth with her left breast. She used her right hand to pinch my nostrils until I could only breathe out of the corners of my mouth. I held my mouth open as wide as I could, hoping not to cut Renata's breast with my crooked front teeth. I remember praying to God the Tang overpowered the pork chop, rice, and gravy smell on my breath.  I  didn't think Renata would want to stay my girlfriend if I made one of her nipples smell like pork chops, rice, and gravy. Choking on Renata's breasts made me feel lighter than I'd ever felt.  After a few minutes, Renata grabbed my penis and kept saying, "Keep it straight, Kie. Can you keep it straight?""
The above quote refers to a 12 year old boy and his babysitter.   Heavy also includes a scene that describes "running a train" on a 15 year old girl.  And no, this has nothing to do with Amtrak.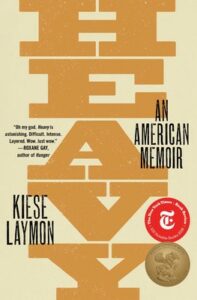 In the future we will be calling out other books that are inappropriate for our schools, but the last one we will mention is the book Fun Home: A Family Tragicomic by Alison Bechdel.   The district did NOT purchase 30 copies this book for use in English I book club (9th grade) as had been planned.  However, this is ONLY because vigilant community members complained to Dr. Hoven.  Below is one of several graphic images from the book (frown faces added by us for the purpose of decency).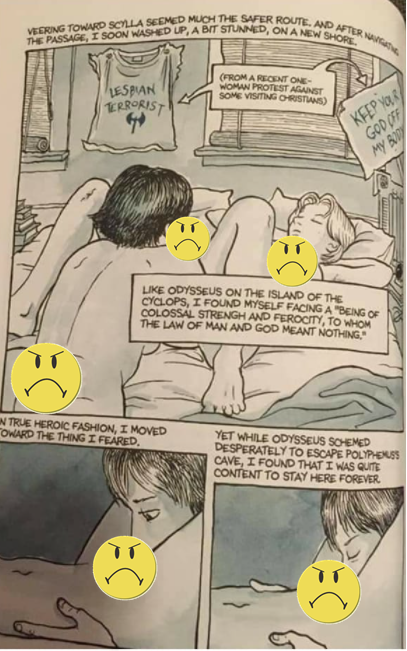 We appreciate that Dr. Hoven decided not to buy the book after parents brought it to his attention.   The problem however is not solved until the district implements its own controls that prevent sexually indecent and inappropriate content in our schools.
We fully understand the concepts of academic freedom and diversity of thought. We understand free speech.  Those are important, but there should be limiting principles when considering minors. "Diversity" should not be a weapon used to replace classical and quality literature with pornography.
Francis Howell Families would like to see the district develop clear policies with respect to erotic, sexually explicit, and pornographic material in our schools – and see that they are followed.  These policies and the materials used in class and available in our libraries should be transparent to parents.
What you can do: