In September, the Missouri Department of Elementary and Secondary Eduction (DESE) released the state-wide results from student MAP testing conducted this Spring.  They were not good.
For the last three months DESE has "embargoed" district and building level scores, refusing to release them to the public.  The Francis Howell administration has had them, but they also failed to disclose them to the community.  In the last few days these were finally made available – without announcement – on the DESE website.
Now we know why they were kept from us: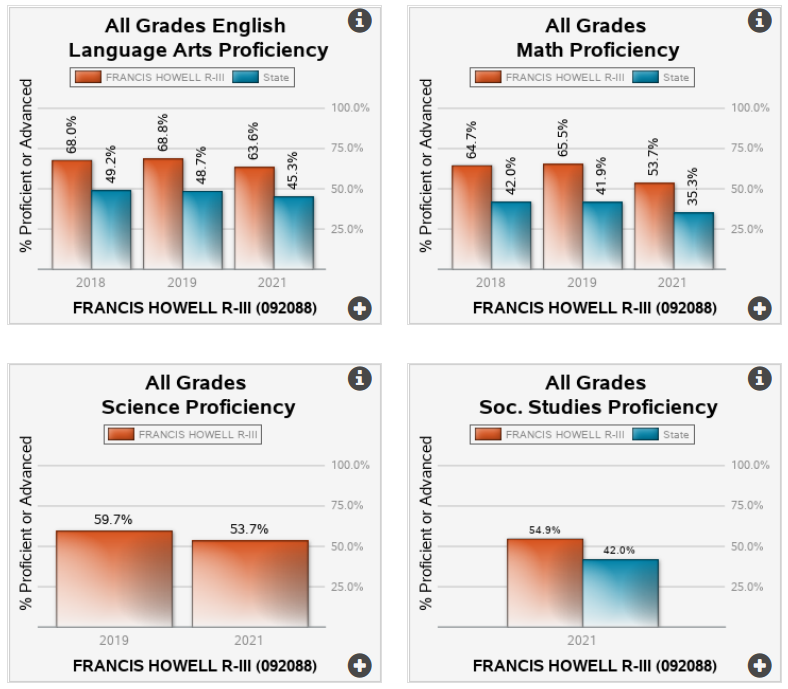 The decline in Math scores was severe – 12% fewer students are now grade level proficient.   Francis Howell this year voted to eliminate some middle school challenge courses for reasons of "equity" (see article)
Francis Howell students have historically scored significantly better than both Fort Zumwalt and Wentzville.  Our students are now roughly on par with Zumwalt, and for the first time ever fallen below them in Math.
Since our formation this summer, Francis Howell Families has been working to support our Mission: academic excellence, transparent accountability, and fiscal responsibility.   Our efforts to eliminate CRT and pornography from our schools has not been welcomed by the administration.   The board has not only ignored us, but banned us from even mentioning our name during public comments.  Our work to recruit and qualify new board candidates has been a success: we are endorsing Adam Bertrand and Randy Cook for the April 5, 2022 election.  This will be a big first step to restoring some common sense to our schools.
What you can do:
Make sure that you vote on April 5 and get your friends and neighbors to do the same.
Find out more about the candidates that we are endorsing – Adam Bertrand and Randy Cook
Please contact us if you have questions, or find out how you can help us return Francis Howell to academic excellence and fiscal sanity.
Consider making a donation to help us elect better school board members.