The April 4th school board election is only one week away.  Don't forget to vote and get your family, friends, and neighbors to do the same.   See information below on No Excuse Early Voting.
There are three open seats and you will be able to vote for three candidates.   Francis Howell Families is honored to be endorsing Jane Puszkar, Mark Ponder, and Ron Harmon – three great candidates who truly wish to serve our students and community.

Back to Basics
More focus on Reading, Writing, Math, and Science. 
– Reverse tumbling test scores and return as a Top 10 Missouri school district
– Support our great teachers and enforce discipline so that they can teach effectively.
Spend our $280M annual budget wisely and transparently
– Eliminate unnecessary programs and expenses; rein in runaway capital projects


– Spend less on central office bureaucrats and more on pay for good teachers and proven educational resources

Stand against the radical agenda of the local NEA:


– CRT,  gender indoctrination, and sexualization of children.

Support Parental Rights, including medical freedom and transparent access to all instructional materials
---
No Excuse Early Voting is open NOW
You can vote now at one of the two locations below:
SCC Election Authority, 397 Turner Blvd, 63376
Mon-Fri, Mar 21-31, 8:30am-4:30pm
Sat, Apr 1, 8:30am-12:30pm (the only location for the only Sat)
Mon, Apr 3, 8:30am-5pm
Early Voting Additional Satellite Location:
Element Church, 100 Mall Parkway, Suite 500, 63385 (former Belz Mall)
Mon-Fri, Mar 21-31, 9am-3pm
Note: The Election Authority Office is more accessible for voters with disabilities.
---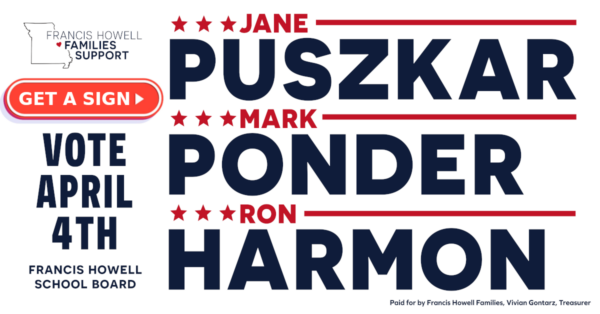 ---