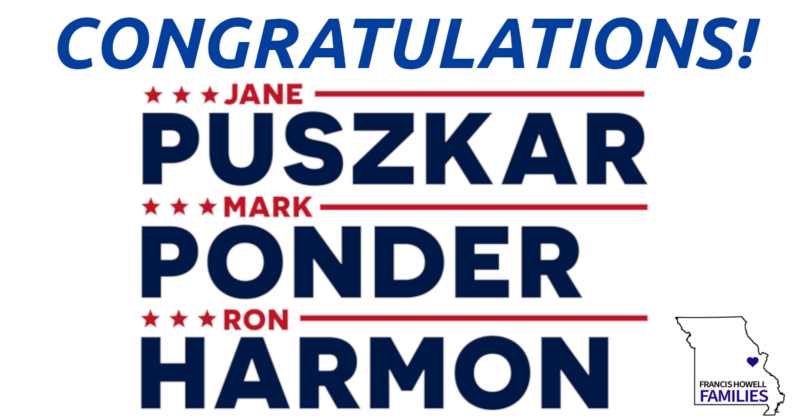 ---
Francis Howell Families would like to congratulate Jane Puszkar, Mark Ponder, and Ron Harmon for their decisive wins in the April 4th, 2023 Francis Howell School board election!
We would like to thank the Puszkar, Ponder, and Harmon families, the dedicated supporters and volunteers, and the Francis Howell Families organization.   Most importantly, we would like to thank our many donors who contributed financially to this tremendous victory on Tuesday.
Note:  Jane, Mark, and Ron will be sworn in at the Board Reorganization Meeting at 6:30 p.m. Tuesday, April 18.  This meeting will be held at the Administration Building at 801 Corporate Centre Drive in O'Fallon, MO and is open to the public.
---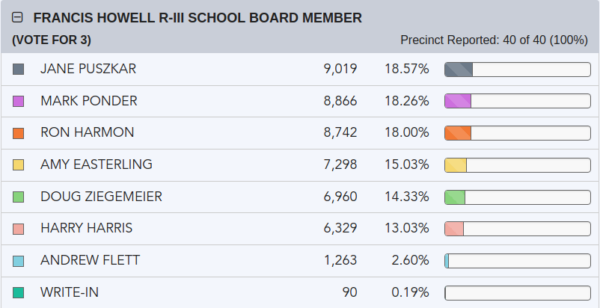 ---
What's next…..
Please contact us if you would be interested in finding out more about Francis Howell Families or joining us as a volunteer.
Consider making a donation to help us continue to elect better school board members and improve our schools.
---
Francis Howell Families recruits, supports, and educates candidates for the school board who support academic excellence, transparent accountability, and fiscal responsibility while encouraging in students a strong work ethic, good character, and respect for our nation's founding principles.  We reject attempts to divide people by race, gender, or other immutable characteristics or to teach that those characteristics determine their destiny.  Instead, we work to create a district that provides a high-quality, knowledge-based education for all students so they can be fully prepared to participate in civil society.